All Ages Welcome
I offer online violin lessons for students of all ages and skill levels. In your online class, you will get one-on-one violin instruction, as if you were right here with me in my studio. I tailor each online lesson to each individual student in order to help provide them with the skills and confidence they need to achieve their goals while still having fun!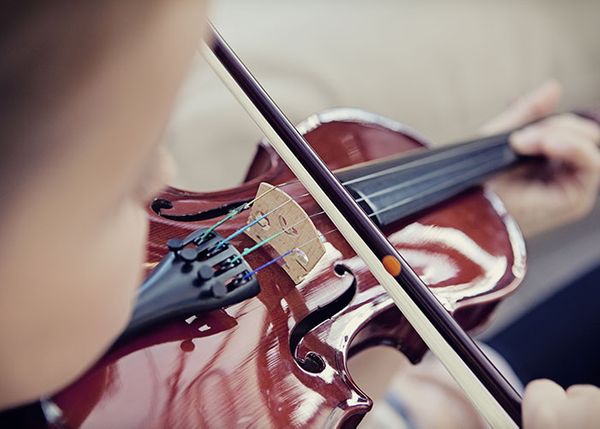 Why Study With Me?
Education: I have a BA in Violin from the San Diego State University School of Music under the tutelage of San Diego Symphony Orchestra violinist Hernan Constantino. I also did Post-Baccalaureate study at the Cleveland Institute of Music under the tutelage of the Cleveland Orchestra's principal second violinist, Stephen Rose.
Teaching Experience: I have been teaching violin professionally to children and adults since 2007. My students have performed in the California All-State Orchestra, the Mainly Mozart Youth Orchestra, the Civic Youth Orchestra of San Diego, and more.
Professional Experience: I have played with various orchestras throughout Southern California and the nation, including the San Diego Chamber Orchestra, San Bernardino Symphony Orchestra, San Diego City Ballet Orchestra, and the Strauss Symphony Orchestra of America.
Learn Violin From Anywhere in the World
Celebrated musician Bill Evans once said that "When you play music you discover a part of yourself that you never knew existed." In my online violin lessons, I seek to help my students not only to learn to play an instrument, but also learn a little more about themselves through the life-changing power of music. Although my lessons take place over the web, they have the intimacy and individualized attention of an in-person session in my studio.
Whether you're hoping to play violin professionally, auditioning for a high school orchestra, or simply want to learn a fun new hobby, I can provide you with the experience, attention to details, and know-how you need to help you achieve your goals. I am a patient teacher who is always happy to share my passion for one of the world's most beautiful instruments with new students.
Thanks to my online violin lessons, you no longer have to live in Southern California to enjoy my tutelage. No matter where you are in the world, I am happy to help you learn. With online violin lessons, you not only get the advantage of being able to learn violin from the comfort of your own home, but you also can record our lessons to refer back to during practice on your own time. In addition, I offer special rates to all of my online students.
Learning to play the violin opens you up to a whole new world of self-expression and joy. If you're interested in learning more about my online lessons, then get in touch with me today to schedule your first class.